Ever since the start of the pandemic in 2020, the majority of us have been doing more home workouts than ever before! Although it's pretty easy to find free workouts online, sometimes it's best to download a health and fitness app to help keep us on track and stay motivated! 
In this blog review, I give you my take below on 10 health and fitness apps for you to consider in 2021. 
Benefits of using a health and fitness app
First off, it's important to identify why you should actually download one of these apps to help progress of your own fitness journey. Here are a 10 benefits you get from using them:
Gives you flexibility to workout when and where you want i.e at home 
Most don't require equipment to get you started
You can set fitness goals on most apps 
You can set notifications on your phone to keep you motivated to workout. 
Most have brilliant tutorials and even live workout videos to show you what to do exactly. 
Can be a lot cheaper than gym memberships 
Gives you the opportunity to learn new workouts for your fitness routine 
Get access to some world leading personal trainers 
Makes it easier to track your own fitness progress 
Can help create discipline to achieve your fitness goals 
Top health and fitness apps 
To help you out I have compiled 10 of the most popular and best health and fitness apps for you to have a look at. I have personally tried all of these apps below and I give an overview, my opinion and rating for each. 
1. Fiit App
Fiit are an online fitness company that have created an app with the aim to give you the ability to have on demand home workouts. This includes classes, group work and personal training plans.
This app is for entry level to advanced – it's not just for fitness junkies! The app is available on the Apple App Store and Google Play for Android and can be downloaded for free.
What you will get: 
The fiit app provides you with a whole host of content such as live classes you can do with your friends virtually or anyone that joins the group. If this doesn't interest you, Fiit have also set up their best class collections covering many areas for you to pick and choose when you wish. 
There is also a training plan section which is probably the best part I like about the app which gives weekly training from 2-6 weeks so you can see maximum benefits and results.
Who is this best for?
This app is for entry level to advanced – it's not just for fitness junkies! Which makes it a great option for anyone looking to improve their fitness regime. 
If you are downloading for the first time you can get this app on a 14 day FREE trial, but there will be subscriptions cost after. However, if you stay committed to the fitness plans after the trial it is definitely worth the investment to keep you motivated.  
Rating:
Download below and sign up to FREE 14 day trial below: 
2. FitOn App
The FitOn app in my opinion is very similar to the above Fiit app, in terms of getting access to workout training plans, celebrity personal trainers and on demand video workouts. However, they do have added health benefits which possibly makes this slightly better in my opinion including meditation and nutritional meals plans to reach you fitness goals quicker. 
There is also the option to target certain areas of your body to workout if that is what your prefer. Most the classes vary from 5-10 mins to 30+ depending on the intensity level you decide to pick. 
They do also play really play up their celebrity partnerships with class workouts with them including actress Julianne Hough, comedian Jonathan Van Ness and the band The Chainsmokers.
What you will get: 
FitOn provides you with all the necessary on demand video workouts that you will need making it easy and clear to get started. One thing I did like is that they make sure you stick to your workout goals by asking to sync the app with your calendar with a time to remind you when to workout
I feel FitOn doesn't just aim to improve your overall fitness from the 100s of video workouts. They also want to help improve your mental health through meditation classes and your nutrition through the personalised diet plans.
The only downside is that you will need to pay a small amount extra to access the personalized 12 week diet plan with 500+ recipes. But considering the very small amount it might be worth it if your seriously consider improving your overall health and fitness.
Who is this best for? 
I think from being on the app, I would say it targeted slightly more for women, however if you are a man I wouldn't let that put you off as the workouts are 100% suited for both sexes and you will feel the burn once you get started. 
This app is for all levels of fitness and won't leave you disappointed with the mass amount of workout options which will not leave you bored on what workout to do next! 
Rating:
3. Crossrope App
Crossrope is one of the most popular upcoming workouts that will change up your fitness regime by learning how to jump rope to get fit! 
If you are going to use this app I do recommend your purchase their actually Crossrope weighted ropes, but using a cheaper one will still work while using the app in some of it's workout sections. 
What you will get:
It has a whole new range of free workouts for you to try alongside your jump rope training. All you have to do is set up your profile, select what types of ropes you are using and then pick your challenge or workout.
My favorite part of this app has to be jump rope challenges sections which really help to map out what you want to achieve. This involves not just jumping rope but other exercises as well to make sure you are getting the maximum out of your workout.
There is also premium version which offers extra workout options, but I would only purchase this if you plan on really immersing in the Crossrope experience.
Who is this best for?
Overall I'd highly recommend this to any beginner looking to learn to jump rope or git fit and even to more advanced skippers looking to challenge and push themselves further in their workouts! 
Rating:
4. Corner App 
Corner are in fact a punch tracking product that have created an app to bring the boxing gym to your home. This app offers you stay motivated with connected boxing classes which are based around punch stats. 
This includes tracking your punch count, speed, power workrate calories burned and more.
What you will get: 
Thanks to the trackers you will get with this, you can track every second and every punch of your own workouts with interval timers within the app. This in turn allows you to really hit your goals and track your progress after each session. 
Like most of these workout apps, you train and compete with your friends with a real-time leaderboard. 
You will also get access to former professional fighters and trainers who will give you the best possible boxing workouts
Who is this best for?
Thanks to their handy quiz at the start you can choose your level of boxing by selecting beginner, intermediate or advanced. Once you are in the app you can get started with the class that is right for you whether it's your first time boxing or even if you're a professional boxer. 
I do highly recommend you purchase the Corner punch trackers first if you plan on using this app, so you can really get the most out of tracking your fitness progress.  
Rating:
5. FitTrack app
Keeping in control of your weight can be one the hardest things to do over a long period of time, as someone who is a boxer and likes to keep in good shape, I have to admit this something I'm always keeping an eye on.
FitTrack have come up with a unique product and app with the aim of giving more people a healthy lifestyle.
This is done through their smart scales product the FitTrack Dara which is connected to a unique app giving you 17 health and body measurements to monitor including BMI, weight, and muscle mass.
What will you get?
The key way to see all of your health measurements is by downloading and using the FitTrack app which is available on iOS and Android. From here you will be able to get full personal insight into all your measurements.
To keep you motivated it gives you daily, weekly, monthly updates, while also providing easy-to-read charts that make it easy for you to understand.
If you are already tracking your health with apple health or google health – The FitTrack app will also sync up with this.
Who is this best for? 
So who will actually benefit from FitTrack? Well personally for me as a boxer, this is great product to have especially if you have to cut weight for fight. It really helps to measure exactly what is required for your weight goal. For this reason I think it can apply to lots of people generally looking to lose weight.
This is one of the most highly rated smart scales on the market, so if it is your weight and health you are wanting to concentrate more on, FitTrack is definitely for you! 
Rating:
6. FightCamp App
FightCamp is a workout subscription that brings authentic, trainer-led boxing workouts to any home. Thousands of people are loving this interactive, intense and empowering workout, led by experienced trainers who range from a Pro Female MMA Fighter to a former U.S. National Boxing Team member.
What you will get: 
In terms of the FightCamp app this is currently free, due to the current circumstance in the world and have removed their monthly fee. This means you are able to access all their boxing workout content! 
The only downside is you won't be able to track your punches or participate in the leaderboard with singing up to the subscription or full package.
If you are entering FightCamp with little-to-no boxing experience, they have designed a beginner's path "Prospect Path"which is an 8-12 week program that combines their tutorial videos, with Boxing Base workouts and specially curated FightCamp workouts and Sprints. There is also experience paths for those that are at more advanced boxing level.
Who is this best for?
FightCamp in my opinion is great for anyone who wants to fully immerse themselves in boxing as their primary workout method. Although looking at the packages seem pricey, you can pay a monthly subscription cost to pay off, which will give you access to punch trackers, a free standing punch bag, hand warp and matts. 
FightCamp subscription is currently only available in North America, but app is available worldwide to download.
Rating:
7. Aaptiv.com
Aaptiv is a leading provider of premium digital health and wellness content and is the #1 audio fitness app. Aaptiv provides trainer-led, music driven workouts in 22 fitness categories including running, strength, cycling, HIIT training, boxing, yoga, meditation
What do you get?
Aaptiv bases their fitness regimes based off their combination using its innovative use of sound and music on their platform.
Once sign up to Aaptiv you will get access 2,500 audio/video guided classes across every exercise you can think including boxing, strength-training running, yoga, cycling, meditation and more. They adda round 20-40 classes every week so you won't be left bored with the same class every week
Right now they have a round 20 certified trainers who will help you focus on reaching your goals no matter what type for fitness you are doing!
Who is this best for? 
This really is app that can suit anyone generally looking for healthier lifestyle no matter what type of fitness you are into – Aaptiv will cover you to become a better version of you.
This is a paid subscription service, but it's definitely worth trying out their 7 day FREE trial before you decide to commit!
Rating: 
8. My Celeb PT 
My Celeb PT is the virtual personal trainer app that gives you the opportunity to work out with your favourite celebrities as your own personal trainer! Choose your own dedicated program to help you achieve your fitness goals and your favourite celebs will coach you through your workouts, motivate you and provide feedback on your progress.
What will you get:
At the moment it is UK based social 'celebrities' if that is what you wish to call them! The app itself was beneficial to me as their is a professional boxer Robbie Davis Jr on it who actually made my workout more relevant for me personally!
You will get tailored workouts, nutrition plans with healthy and delicious recipes, support, guidance and constant 1-2-1 contact from the celebrity trainers and a community of thousands of other users all motivating each other.
The My Celeb PT app also focuses on creating both a healthy mind and body, and is great way to get in shape whilst improving your state of mind. You will have to pay a subscription cost to get full access, but by doing this it will keep you fully motivated. 
Who is this best for?
Whether you want to work out at home or at the gym, lose weight, gain muscle or target a specific area, there is a plan to suit anyone looking for specific goals and needs.
If you are someone who lacks the discipline and need that little bit more organisation and motivation the My Celeb PT app is a great option to go with as the virtual trainer will keep you on track along with the community that is on it! 
Rating:
9. HealthyWage 
HealthyWage is a website and weight loss company who offer you the chance to bet against yourself to lose weight over a period to win cash.
The website offers you the opportunity to calculate how much weight you think you can lose and if you are to reach your goal weight loss – HealthyWage will pay out cash up to $10,000 by cheque or PayPal.
What you will get:
After you sign up for You will get access to a 5-star rated mobile app available for iOS and Android 24/7 access to the HealthWage Coach via the Support Feed!Training advice support and motivation.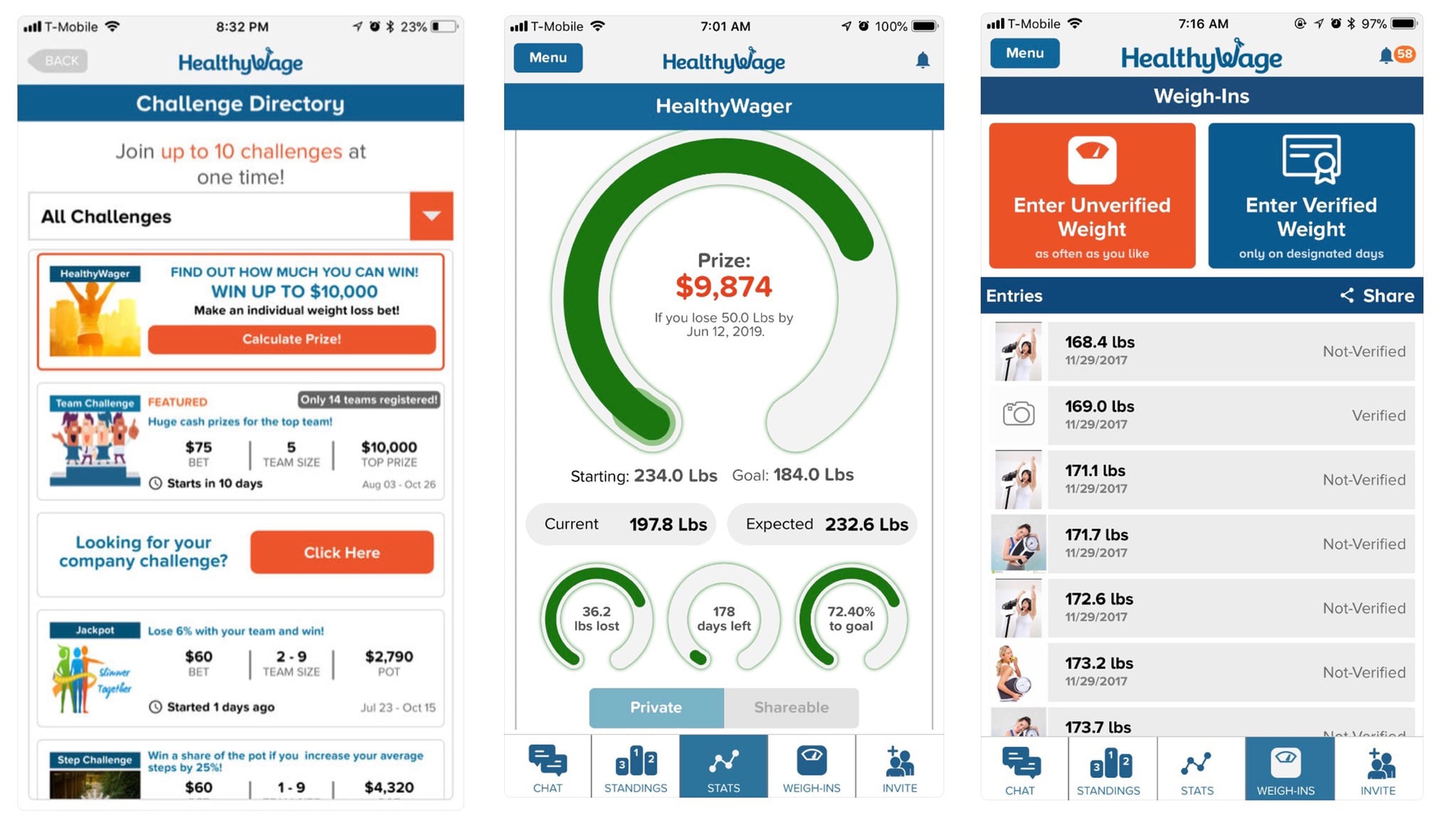 Who is this best for?
If you are completely motivated to lose weight…this might just be the perfect program for you due to the cash incentive. HealthyWage have based their service on scientific research that proves that you are more likely to follow through with losing weight if you have something to lose i.e. money. 
This app isnt for faint heart I guess, but if you need something to get you motivated to finally lose weight, HealthyWage might just be the thing for you!
Rating:
10. Jillian Michaels app
Jillian Michaels has helped millions reach their goals and is now one of the world's leading fitness experts and nutritionists. She has created her very own app that helps guide you through every step of the way to reach your own fitness goals. Jillian takes all the guesswork out of the equation and provides you with all the tools needed to succeed. Motivation, detailed instruction, totally customizable exercise regimens, and detailed meal plans co-created with renowned chefs.
What do you get?
This amazing app contains an infinite variety of fully interactive, customized daily workouts, or users can choose from one of Jillian's specifically tailored programs. These can last from 30, 60, 90 to 365 days.
You will also get access to Jillian Michaels 'workout generator that will find out exactly what fitness goal is right for you. 
By signing up to the app you can get a 7 day FREE trial, before you have to pay for the subscription service.
Who is this best for?
It is obviously more targeted fitness app for women to use, but that's not to say men can use this at all, but I would lean more toward the latter. 
This is also for anyone who has ever wanted Jillian Michaels to be their personal trainer and coach, this is the app to go for as you will 100 hour of content with Jillian leading the way. 
The cost might put some people off, but it's worth downloading for the 7 day FREE trial first to see if this is for you! 
Rating:
---
Make sure to let us know in the comments below which health and fitness app you are interested in taking up.
If these programs don't pick your fancy why not check out some other fitness program reviews here or some top articles below:
Or why not look out more boxing training advice by visiting the link here.
Thanks for reading!
Recent Posts