2020 has been a year like no other and for boxing it has really affected the sport at his grassroots level across the globe. Luckily for fight fans, boxing promoters, managers and TV networks had to innovate to get the sport going again during a pandemic which would keep the sport progressing throughout 2020. 
I've compiled a list of my top 10 boxing moments in 2020 to reminiscence about and our very own 'Boxing Life Awards' for you to check out. Enjoy 
Top 10 boxing moments of 2020
The Gypsy King is Back 
Before the pandemic hit, everyone was extremely lucky to see this world title heavyweight bout with a packed arena in February. Fury came out as the aggressor against Wilder who could not handle his pressure and size as he completely dominated him! 
The Gypsy Kings went on to knock down Wilder 3 times, before his corner had to throw in the towel in the 7th round to stop him from getting an even worse beating. After an incredible journey from being obese and suffering from depression. Fury managed to get himself to the top of the sport again in emphatic win. Check out the highlight below: 
Teofimo defeats Loma 
While most promoters were setting up easy fights, there had not been any super fights which are rare enough in boxing anyway! However, luckily for us both Teofimo Lopez and Lomachenko stepped up to give us the best fighting the best in the lightweight division. 
The vast majority (myself included) gave Lopez really no chance of beating the former number 1 pound for pound star. Lopez used his speed and power to his advantage over Loma who struggled to make a real dent on the upcoming American star who ended up taking all four of Loma's belts to shake up the lightweight division and boxing! Check out the highlight below:
Joshua ends the year with a bang
Another heavyweight back in action was Anthony Joshua, as he finally got the chance to face his IBF mandatory Kubrat Pulev. This was actually one of the most entertaining fights of the year in my opinion as leading up to the fight there were still many question marks over Joshua and if he had truly got over the "ghosts" of his defeat to Ruiz last year. Joshua put on a fairly convincing display as he went onto KO Pulev convincingly. Let's hope Joshua and Fury can finally get their fight on in 2021. Check out the highlight below:
Canelo dismantles Smith with ease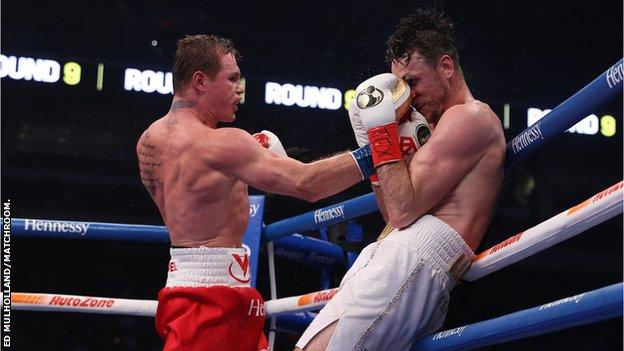 Saul Canelo Alvarez had been out for 13 months after his KO victory over Kovalev last year at light heavyweight. This time he decided to take a step down in weight against super middleweight title holder Callum Smith who was massive in height compared to him. 
The Mexican put on a dominating display which made Smith look average at times, as Alvarez walked down the Brit for the majority of the 12 rounds, proving that size isn't everything in boxing. Let hope the Mexican will have a big 2021 with like of Saunders or trilogy fight with GGG. 
The Bubbles…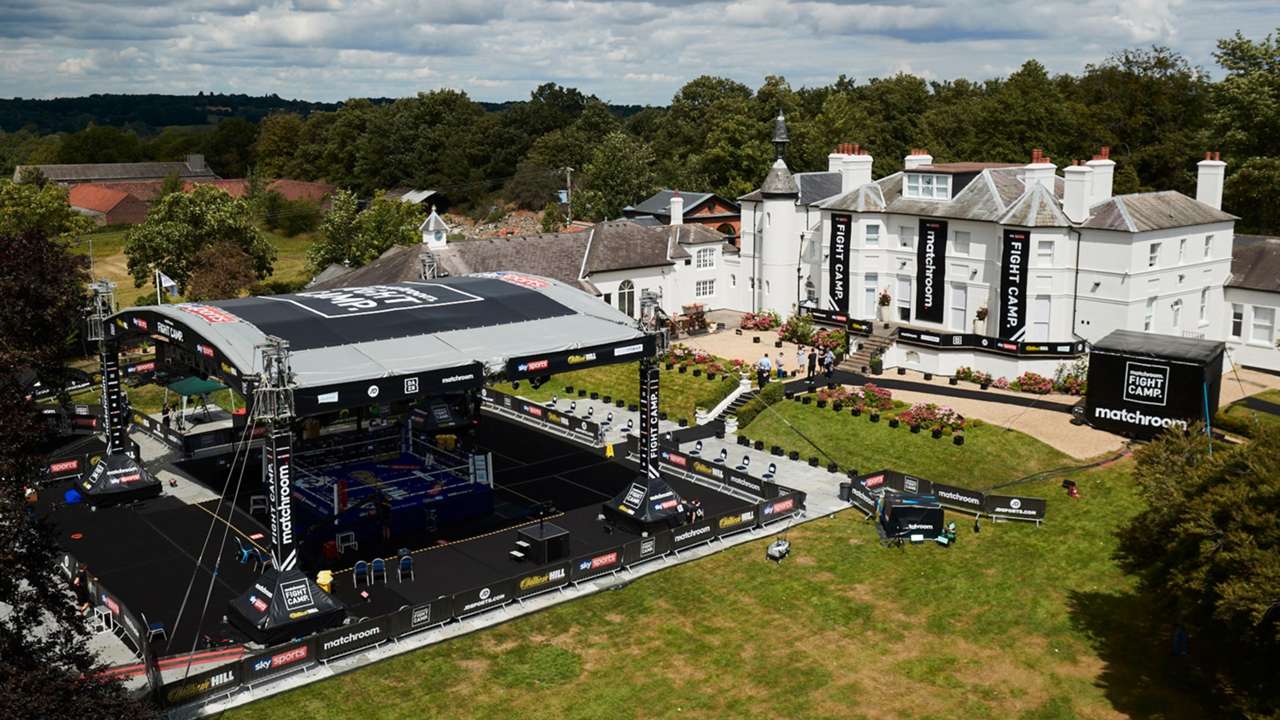 Bubbles were definitely the way forward for boxing promoters and tv networks in 2020 as they would have to make sure the covid would not get inside and infect the fighters and camps. This meant a series of tests for everyone including those working on the sidelines were covid negative if they were to stay within the "Bubbles". Out of all of them I think Matchrooms Fight Camp was probably one of the most impressive as they set up the boxing ring in back garden of their headquarters in Essex. 
Usyk continues at heavyweight 
Oleksandr Usyk continued his heavyweight career against Chisora who was seen as a potential opponent that could cause some problems or even defeat the former undisputed Cruiserweight champion. 
I have to admit the opening rounds did not look good for Usuk as Chisora's pace and pressure ask questions of the Ukrainian. However once Chisora started to tire Usyk rhythm and jab looked to take control of the fight winning fairly comfortably in the end. Usyk is now the WBO mandatory for Joshua's title, so it will be interesting to see if he will end up facing him in 2021 next…
Joe Joyce proves who's boss
Dubois vs Joyce was seen a complete 50/50 by most in the sport and was definitely one of the top fights in the UK to make at the time. Dubois had been natured throughout his whole career to be the next big star in heavyweight boxing. Joyce on the other hand, a former Olympic champion with vast amatuer experience was seen as a bit of an underdog which was strange, many writing him off completely. 
This fight was relatively close throughout, but saw Joyce use his experience to his advantage jabbing Dubois' left eye to point he had to be counted out after the swelling proved too bad. This has now set up Joyce to be 1-2 fights away from a mandatory shot a world title in 2021.
Davis KO's Santa Cruz
This was another interesting matchup as Gervonta Davis, no doubt was wanting to make a statement against the highly experienced and tough Leo Santa Cruz. Taking place in front of fans in Texas (unusual for this year) this fight actually was living up to the hype with both fighters having a real go!
This resulted in arguably the KO of the year, with an outstanding uppercut which knocked Santa Cruz out cold. It was a massive statement to everyone in the sounding weight classes and I'm excited to see Davis step up again in 2021.
McCaskill beats Braekhus to become undisputed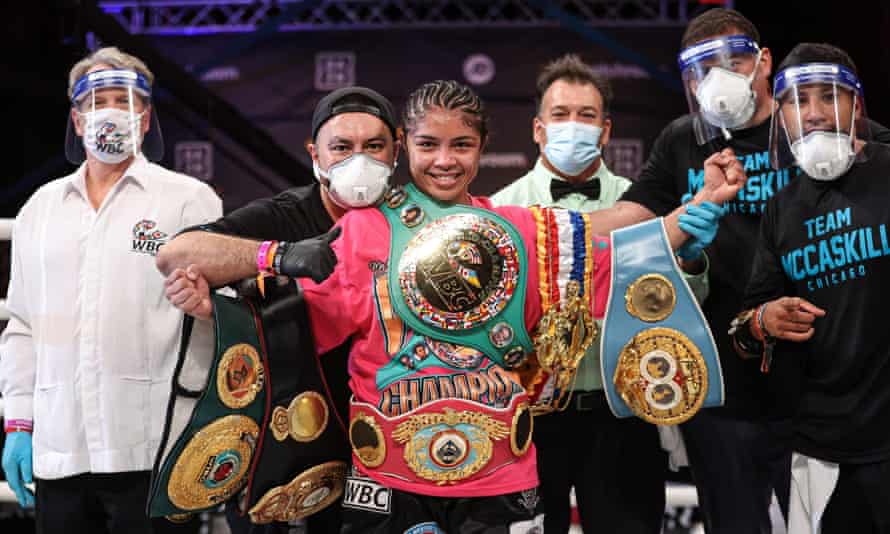 Women's boxing is definitely on the up in my opinion and one of the big upsets of the year came when Cecilia Braekhus lost her WBA, WBC, IBF & WBO women's welterweight titles to Jessica McCaskill. Braekhus has been world champion since 2009 and has been widely regarded as the greatest female boxer. McCaskill put on a very strong performance to become the next undisputed champion making her one of only eight boxers in history, female or male, to hold all four major world titles simultaneously.
Povetkin stuns Whyte
It was meant to be Dillian Whyte's night, against an aging heavyweight so he could finally get his mandatory shot for the WBC world heavyweight title. Things started well for Whyte as he got a few knockdowns against Povetkin in the opening rounds. 
But the Russian of course reminded that he is no mug and his experience proved this when he created a devastating knockout out of nowhere, that left Whyte completely out cold. The two will rematch early 2021 and I'm sure many will want to tune in to see if Whyte can get redemption or if he has come to the point of no return. It will be interesting to see what happens… 
Mike Tyson vs Roy Jones Jr Exhibition 
It was one of the most watched fights of 2020, as Tyson and Jones Jr came together in an exhibition match. It definitely had that nostalgia appeal to boxing and fight fans as it gave us the opportunity to see two legends of the sport come up against each other. No winner was officially declared, but it was clear an invigorated Mike Tyson looked strong in there, no doubt fight like this will be a continued trend in coming years. As long as no one gets seriously hurt in these exhibition fights, I'll be good! Can't help but laugh at this clip of Tyson after the fight. 
Have I missed any key moments of 2020? Let me know in the comments below.
Boxing Life awards
Now this is just a bit fun on my end and is just an opinion in the end. You can check out who I gave the awards to in 2019 here
Fighter of the year 2020 
Teofimo Lopez – I have to give it to him, he talked the talk and walked the walk. After claiming his first world title with a massive KO over Commey to claim the IBF lightweight title at the very end of 2019, the Loma fight was very much expected to happen in early 2020. However, we all know what happened, despite this he still took up the challenge of taking on pound for pound king (at the time) Lomachenko. His dominating display and victory against one of the greatest boxers of our time has set up Teofimo Lopez into boxing stardom and to take on the very best! 
Runner up – Tyson Fury
Fight of the year 
Baranchyk vs Zepeda – if you haven't seen this yet, you have to! Both fighters get knocked down a total of 8 times in 5 rounds as they go full throttle to KO each other. Baranchyk was probably the favourite going into this one, but ends up getting clipped by Zepeda to end his night. I'm sure Top Rank will try to make this fight again in 2021 and let's hope fans will be able to see it next time. Check it out below:
Notable mentions – Wilder vs Fury 2, Joshua vs Pulev, Davis vs Santa Cruz 
2020 KO of the year 
Gervonta 'Tank' Davis – this was a real tough one as there is obviously so many KOs throughout the whole year. For me there is just something spectacular when devastating KOs happen in the lighter weight categories. For me this was incredible from Davis as he slipped on the outside to throw a devastating left uppercut. Check out the highlights and the KO below: 
Runner up – Povetkin vs Whyte 
---
Check out more blog articles like this on Boxing Life here
or
Follow us on social media or sign up to our newsletter below:
Facebook – https://www.facebook.com/boxinglife0/
Twitter – https://twitter.com/Boxing__Life
Pinterest – https://www.pinterest.ca/boxinglife0/
Recent Posts