I first came across Brainzyme after taking the highly popular nootropic Alpha Brain. I wanted to see if there were other 'brain food' nootropic supplements that would help with things such as focus and concentration.
In the case of Brainzyme, I tried their Brainzyme Focus (3-in-1) Set. Each product has a different formula with the aim to help support clearer thinking so you can get more done. 
In this review, I will give you all the questions you may have about Brainzyme and my own personal experience using highly-rated products. 
What are Nootropics? 
So before getting on Brainzyme products, here is a bit of background on Nootropics. 
Nootropics' term was first coined by a Romanian psychologist and chemist in the 1970s. This was to describe molecules that help towards the brain's higher level of activity with particular criteria. However, in more recent years they are often labeled as 'Smart Drugs' or 'Brain food'. All with the claims to help boost mental performance. 
Whether you know it or not you have probably had some sort of a nootropic at some point. For example, some common nootropics you will use include or heard of are the likes of Caffeine, Creatine, L-Theanine and even Nicotine. 
However, the more commercialized nootropics such as Branzymes Focus formulas aim to help with certain brain functions. This includes elements such as focus, memory, concentration, and motivation. 
Much research is ongoing into nootropic supplements as they are still fairly new. This is because there are still many questions if they actually do boost brain function or if it is just a placebo effect.
Check out my boxing and nootropics guide for more details here.
Who are Brainzyme 

Brainzyme is a leading nootropic brain supplement brand from Scotland in the UK. Starting in 2016 they were the first company in the UK to launch a nootropic that was fully compliant with all the governing food agencies. 
They have arguably created one of the top brain food supplements in the world that uses natural supplement formulas backed up by real science. 
They have done this by creating products that have quality assurance through a careful and a well looked-after supply chain. Along with ethically being made, all their ingredients are suitable for vegans.
Here is a quick video below on who makes Brainzyme below:
How does Brazinzyme help? 
The Brainzyme products aim to support concentration, cognition, energy, memory and mental performance. This is done by using plant-powered ingredients that have been scientifically proven to boost these elements. 
Brainzyme Products and Ingredients 
Currently, Brainzyme offers its main product line Brainzyme Focus. This comes in three different blends – ORIGINAL, PRO and ELITE. 
Each blend has a different formula depending on what you are looking for or how much energy you need. 
The ingredients in all Brainzyme Focus products include:
100% plant-powered Plants, Herbals, Botanicals
Vegan Amino Acids:Theanine, Tyrosine, Carnitine
Essential Vitamins & Minerals: B12, Iron etc.
Now to give you an idea on what each product is best for here is some background for each. 
Focus Original 
This is probably best for those just starting out in nootropics as it has a mild formula compared to the Pro and Elite. 
Focus will aim to give you focus, concentration, a calm mood and 6 hours of energy. Therefore if you are looking for a little mental boost that lasts most of the day. This formula is best to start off with. 
There are 12 active ingredients in Brainzyme Focus Original including Enhanced Matcha Theanine (EMT™) Blend, guarana, choline, vitamins, and minerals.
Focus Pro 
Brainzyme Focus Pro is definitely an upgrade from the original with an 8-hour energy boost, this was something I definitely felt when using the Pro over the Original. As the effect definitely lasted longer for me.
The Pro aims to give you all the benefits including focus, concentration, motivated mood support and memory support. 
Their 20 active ingredients in Brainzyme Focus Pro which include Enhanced Matcha Theanine (EMT™) Blend, guarana, choline, tyrosine, ginkgo, vitamins & minerals.
Focus Elite 
Finally, the Elite product is without a doubt the strongest formula of them all with stress relief being the aim. 
Like the Pro, it aims to give you 8-hour energy which is more than enough. It is also the most expensive out of the three formulas. 
The Elite aims to give you focus, concentration, positive mood support and memory, and brain health support. It is also 3 in 1 formula as it acts as a nootropic, full multivitamin and probiotic in one product.
Brainzyme Focus Elite has the most active ingredients out of the three with 30. It includes ginseng, Enhanced Matcha Theanine (EMT™) Blend, ginkgo, acidophilus, guarana, choline, carnitine, curcumin, vitamins & minerals.
Who can take Brainzyme? 
Anyone can take Brainzyme as long as they are relatively healthy and have no underlying health conditions. You should be fine taking any of the Brainzyme products but check with your doctor if you are really unsure. 
In fact, they show on their website the likes of athletic runners, top CEOs, MMA fighters, nutritionists, and psychologists all happy with the results of using their products. This itself must tell you that it has some sort of positive effect. 
You can also check out the thousands of positive reviews from their everyday customers here.  
My Brainzyme Experience 
So let's tell you about my experience using Brainzyme, having tried Alpha Brain and Qualia I was a bit more familiar with how Nootropics helped me in my everyday life. 
When I came across Brainzyme, the first thing I noticed was they offered a tremendous 3-in-1 set deal for all the above Brainzyme Focus formulas. 
Personally, I think this is a great offer currently as it gives you an opportunity to test out each formula to see what works best for you. 
My average day usually consists of training/going to the gym in the morning or evening. While I work during the day writing and filming for Boxing Life, responding to emails and other business ventures. As much as I love this being my job, there can be days of procrastination or lack of motivation can happen – just like with everyone. 
Now as I had the opportunity to test out all three, I wanted to give each an opportunity to see how much they could help me differently. So I will go over each individually for you. 
Focus Original:
I found the Original best to use if I just wanted to get a little bit of work done in the morning or afternoon. It definitely does give you a boost of energy that will help you concentrate to get tasks done. But not enough to really last you the whole day, I also found it did help in a social setting, and was able to articulate what I wanted to say precisely.   
Focus Pro:
The Pro is definitely a stronger formula than the original and found this to really give me the energy I needed during a busy day of activity. I feel it did help me perform when boxing training with a sharp focus. While writing I found that I had a great concentration on the tasks at hand and was able to get a lot of work done.  
Focus Elite: 
Finally, the Elite is definitely the strongest of the three and with 30 active ingredients, it's no wonder. I found this formula to give me the most energy, best concentration, and motivation to get work done out of all of them. I also felt that it lasted the longest and generally got through more tasks with quality. Both physical and mental activities.  
How Long Does Brainzyme Last 
Results vary around 6-8 hours, depending on what type of activity or task I found myself doing. For me, you would have to take at least 3 capsules to really feel the effect of the Brainzyme Original and Pro. Whereas the Elite formula I found 2 was enough to last the full 8 hours. 
Brainzyme recommends you should take 2-3 capsules and no more than 6 in one day which I agree with, or you could be up all night!
Does Brainzyme really work? 
In my opinion, yes it does work. I think you do need to be consistent with it over the first week of using it so you can see the difference in your productivity. 
I'm someone who is always boxing training and I personally found my focus and motivation while training was definitely boosted. While doing mental tasks like writing and video editing, I was able to concentrate and get a lot more done.
Does Brainzyme have any side effects? 
Increased thirst: Brainzyme claims around 20-30% of customers get this side effect. I must fall into this percentage as I definitely felt the need to drink more water which I guess can only be a good thing! So Make sure you are drinking plenty of water if using. 
Effects on sleep: I always tried to take Brainzyme first thing in the morning, but I did try a couple of times later in the afternoon and yes it did affect my sleep! I recommend you take it in the morning so this doesn't happen to you.  
Difficulty taking on an empty stomach (rare): Brainzyme recommend that you take their capsules with a large glass of water without food for best results (For example, 30 mins before or 60 after food). Personally, I have no issues taking this on an empty stomach, but could potentially be for some. 
*Please note – If you do have any existing medical condition, are pregnant, breastfeeding or suffer allergies to consult your doctor before consuming. 
Pros and cons of Brainzyme 
| | |
| --- | --- |
| PRO | Cons |
| All blends really improve your focus and concentration and motivation  | It will make you thirsty (Drink plenty of water) |
| Great source for essential multivitamins and  minerals  | Can be confusing which blend to try for first-timers (Try the 3-in-1-set) |
| Last 6-8 hours  | Can struggle to sleep if taken in the afternoon |
| Fully compliant with all the UK and European governing food agencies.  | Comes only in capsule form  |
| Gives you a boost of energy | |
| 100% Plant-Powered Ingredients | |
| Brainzyme is triple-tested before  | |
Final Thoughts 
Overall I have to admit I really enjoyed taking all three Brainzyme products. I felt my focus and concentration improved while using and I will definitely be purchasing it again in the future. 
I really like the fact Brainzyme is not just fully focused on being a nootropic supplement. But they also aim to give you all the best multivitamins and minerals that really support brain health.
Instead of getting there 3 in 1 set, I will probably just go for the Elite or Pro Focus formulas going forward. However, if this is your first time trying Brainzyme I would recommend you go for the 3-in-1 set so you can work out what is the best formula for you. 
Why I recommend Brainzyme 
Brainzyme is one of the few natural nootropic brands in the UK that has been proven to be compliant with six different agencies that police food supplements. 
365-Day Guarantee if you are not happy with the results.  
Shipped internationally so anyone can gain the benefits of Brainzyme nootropics 
They give you a FREE handy productivity guidebook to make the most of your experience. 
Boxing Life's Rating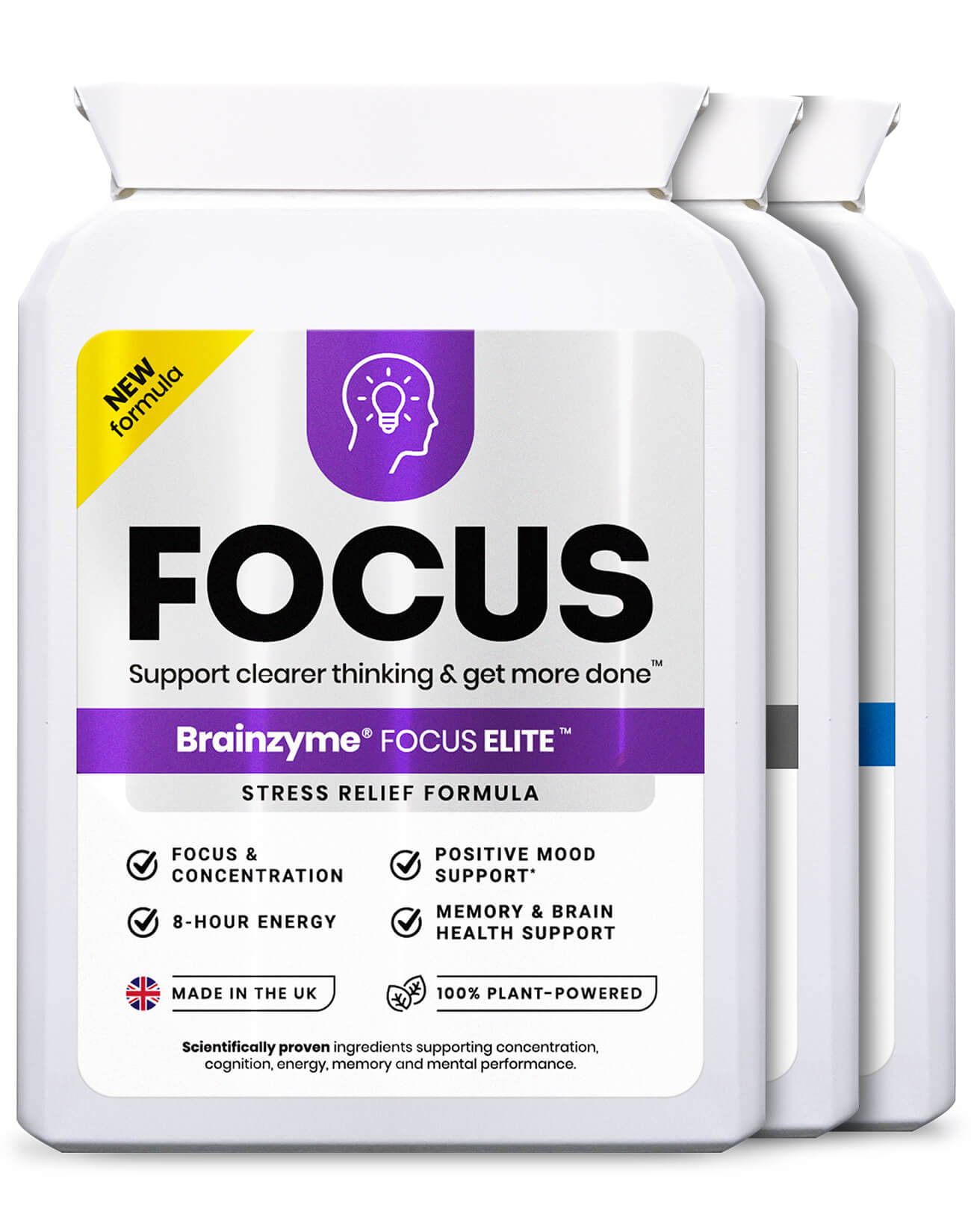 Thanks for reading this review! If you enjoyed this make sure to check out more of my diet and nutrition articles here. 
Why not check out my review on Onnit's Alpha Brain which is leading the industry with nootropics?
Let me know in the comments if you think you will try Brainzyme? 
Recent Posts